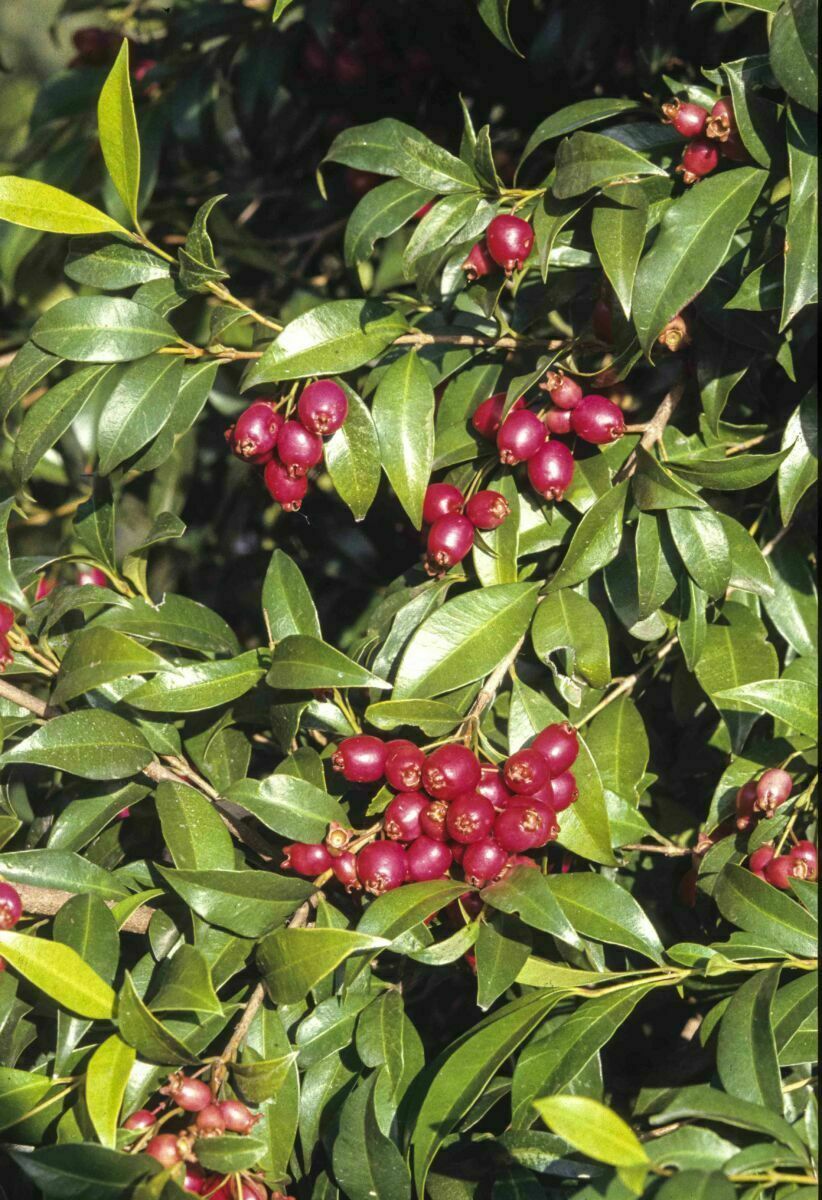 Syzygium australe
Common name: – Resilience Lilli Pilli
I grow best: Full sun/part shade
·  Height 5 metres
·  Flowers in Spring
·  Bird & butterfly attracting
·  Edible sweet fruit
·  Cultural uses
Looks like: A fast growing and compact cultivar with light green foliage and reddish bronze new growth. Excellent for hedging and screening, for topiary and bonsai. Grows naturally to 5metres tall and 3 metres wide, but can be pruned to the desired size and shape. Psyllid resistant. White flowers in spring followed by edible fruit. Flowering begins in late-Spring/early-Summer with clusters of white fluffy flowers appearing across the branches. Fruits start out pale, but are ready to harvest when they turn pink or dark red.have simple and opposite leaves. In this species, they are glossy-green, with the lower surface much paler, ranging from elliptic to obovate, to about 10 cm long and 3 cm wide, with short pointy (acuminate) tip. The large oil glands can be seen with a hand lens.produce 5-merous staminate flowers in panicle-like inflorescences, terminal or axillary on either younger or older wood. In this species, the flowers are produced in clusters in the upper leaf axils and terminals and are quite conspicuous, with flowers are cream/white in colour, produced in large numbers, about 15 mm across long with stamens 20 mm long, creating a "fluffy" flowering effect.
Habitat & Distribution: It grows along the coast of NSW, north of Batemans Bay, in warmer rainforest, often near streams. Extends into Qld, along the coast, up to around Cairns. Hardy species that tolerates dry conditions and most soil types once established. However, as a rainforest plant, it prefers rich, well-drained soils kept moist throughout the year. For best results, plant in full sun or part shade. Its green oval leaves start out bronze, turning deep green and glossy as they mature, making this tree a stunning addition to an ornamental garden.
Traditional uses: In Autumn and Winter, this plant produces edible red berries that are apple-like in texture with a mild sweetness. They may be eaten freshly picked from the tree, or made into jams, jellies, muffins, biscuits, cakes and wine.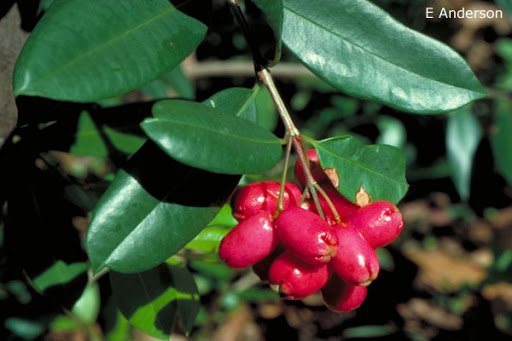 Brush Cherry – Syzygium Australe