Alpinia caerulea
Common name: Native Ginger
I grow best: Sunny, light shade to full shade
· Height up to 2m, width up to 2m
· Well drained soils, adapts to most soils
· Flowers: all year
· Edible new leaf shoots, rhizome tips, buds & roots
· Attracts – bees, butterflies, birds, frogs & other insects
· Cultural uses
Looks like: The native ginger is an edible perennial herb, and is a good bush tucker plant. It has broad sword shaped green leaves with attractive red leaf reverses. The fragrant white flowers are followed by blue berries. The new leaf shoots and berries have a mild ginger flavour and can be used in cooking, or eaten fresh from the plant. It forms a clump to 2 metres tall, and is hardy. Likes a lightly shaded to full shade spot, and can be used indoors. Likes water in dry spells. Grows from an underground rhizome, so the plant can be cut back hard if it looks untidy. Frost will damage the leaves, but it should reshoot once the danger of frost is over, though hard and prolonged frost could kill the rhizome.
Habitat: Native to the east coast of Australia's rainforest understory this plant grows best in dappled to full shade although has been known to grow successfully in full sun. It needs adequate water and likes a good dose of compost regularly but will do quite well without. It will also grow exceptionally well as an indoor plant if watered well.Best grown from the rhizome. Dig up some of the rhizomes on a well-established plant and simply re-plant elsewhere in the garden or in pots. Will shoot within a few weeks if well-watered.
Traditional uses: The seeds can be dried and ground to use as a spice flavouring or make a herbal tea.The berries are known to activate the salivary glands so we're used to keep the mouth moist when bushwalking by aboriginal people. The white pulp inside the berry is the edible part that has a tangy, fruit salad-like taste. Seeds are discarded.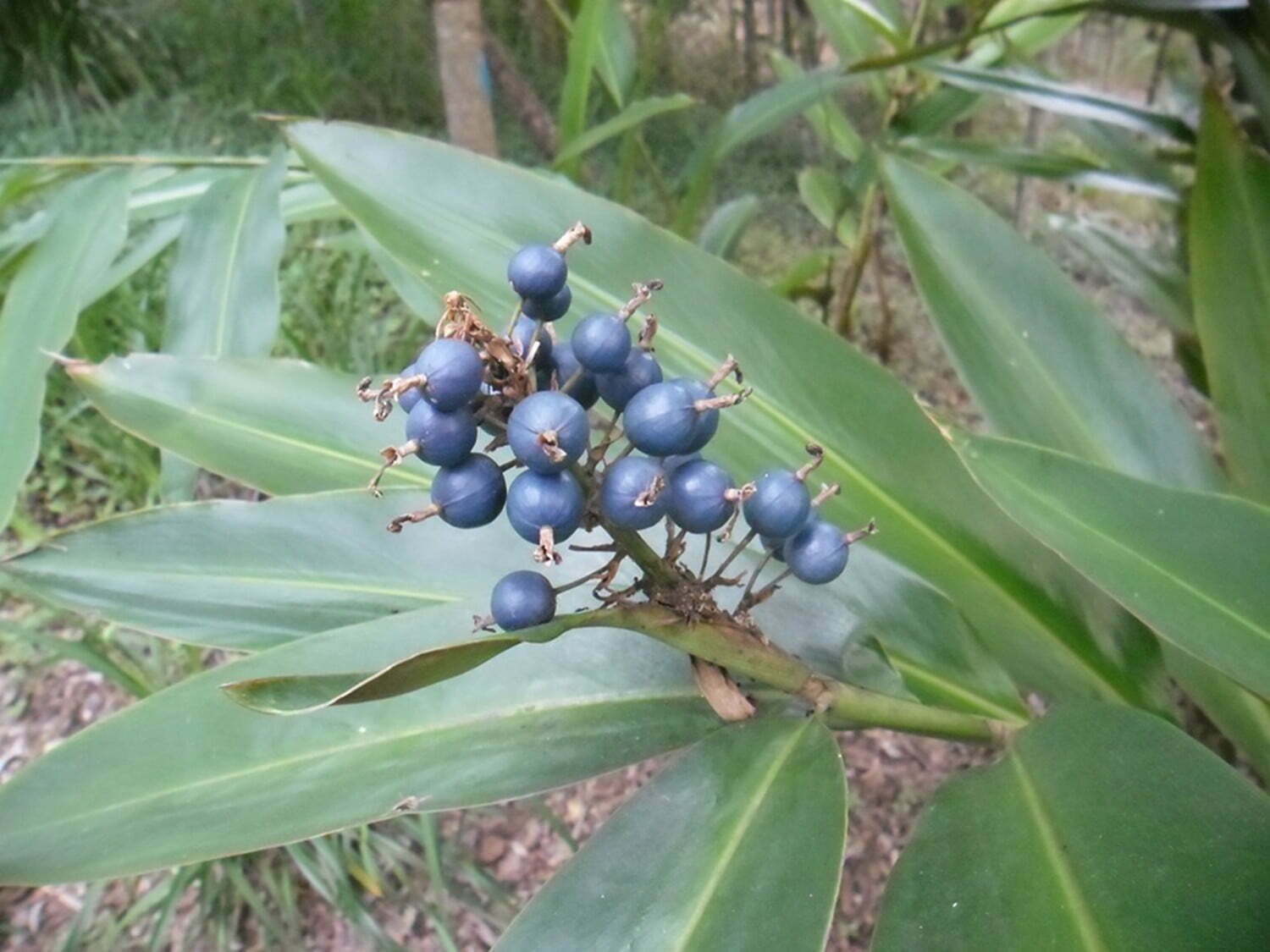 Alpinia caerulea – NSW Native Ginger